Major vs. Minor Kitchen Remodel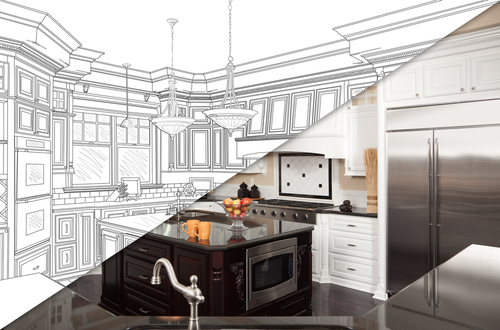 In most homes, the kitchen is its heart and soul. It's where family and friends gather to cook, socialize, eat and drink. It's where family issues are traditionally discussed around the time-honored kitchen table.
Given its importance in a home, it's no wonder that remodeling a kitchen is one of the most popular choices for a home improvement project. Unfortunately, it is also one of the most expensive.
So, before you roll up your sleeves and strap on your tool belt, let's examine a few things you may want to consider before taking on this substantial remodeling project.
Budget Budget Budget
First, you have to know how much you can afford to get the kitchen of your dreams. Are you thinking about making just a few cosmetic improvements, or are you planning on knocking down walls, reconfiguring the layout, buying new appliances, cabinets and countertops?
Even making minor cosmetic improvements such as painting the existing cabinets and walls, replacing the sink and faucet, adding new lighting, and upgrading the electrical can be costly.
So, what can you afford to spend? The answer to that question will determine the scope of your kitchen remodeling plans.
Return on Investment
Even though remodeling a kitchen can be expensive, the good news is that you will likely recoup a big chunk of whatever you invest upon the eventual sale of your home.
According to Zillow, a minor kitchen remodel will recoup an average of 77.6% of its costs. A major kitchen remodel (mid-range) will recoup 58.6% of its costs, and a major kitchen remodel (upscale) will recoup 53.9% of its costs.
So, in fact, a minor kitchen remodel offers a greater return on investment than more expensive upgrades.
That is an important factor to keep in mind.
Know Your Neighborhood
Similarly, before you make a substantial investment in your kitchen, it's a good idea to know how much your home value might increase after its renovation. This can be accomplished by consulting with a few real estate experts in your community.
They should be able to provide you with a good idea about how much of your costs you can expect to recoup if you make specific changes to your kitchen. They can also advise you about how to bring your kitchen up to the standards in your community, but not price it out of range.
These will be important issues if/when you decide to sell your home.
Major vs. Minor
A major kitchen remodel generally consists of completely gutting your kitchen and putting it back together with a new layout and new appliances and amenities. The average major kitchen remodel costs around $68,000, so it is a substantial kitchen renovation project.
A minor kitchen remodel is considerably smaller in scope, size, and cost than a major kitchen remodel. Typically, some of the items in the kitchen are left in place and/or reused, and the basic footprint of the existing kitchen is also preserved. For instance, the cabinets may be left in place, with only appliances and flooring being replaced. Or, maybe the cabinets are repainted or recovered, and a new backsplash is installed, giving new life to a dated kitchen. Generally, a minor kitchen remodel costs about $20,000.
Whatever approach you decide to take – a major versus minor remodel – there's a good chance you'll reap the benefits of the upgrades. You'll enjoy your kitchen more, increase your home's value, and maybe even receive a higher price when you're ready to sell your home. All in all, updating your kitchen should make you a happier homeowner.