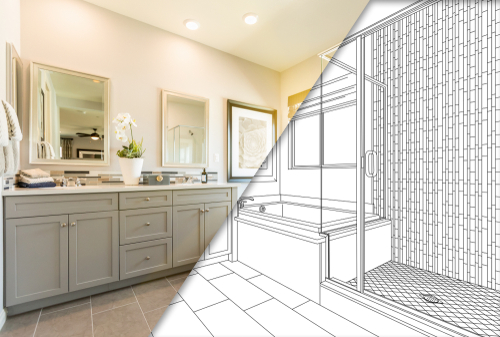 If kitchens are the most popular area for a home remodeling project, bathrooms are not far behind. But just like kitchens, remodeling a bathroom can often cost a shiny penny.

Not every homeowner is prepared to invest that kind of money into their bathroom, so we thought we'd share a few ways you could make small upgrades to your bathroom, creating that feeling of luxury, warmth, and comfort we all appreciate in one of our favorite rooms.
Hands Free
In the bathroom, hygiene and cleanliness are paramount. To that end, several manufacturers of bathroom fixtures have created Touchless sinks or toilets. A simple wave of your hand over the toilet tank to flush, meaning you no longer have to touch the suspicious toilet handle. These smart fixtures are currently available for sale but if you'd rather not replace the entire toilet, you can buy a retrofit kit that will easily convert a standard flush toilet into a touchless one.
Bliss
Nothing quite equals the luxury of soaking in a spa-like tub. But some manufacturers have taken this indulgence to a whole new level. Now you can buy a tub that comes with temperature controls that allow you to heat the surface of the tub, treating your back and neck to heavenly warmth and comfort. Three different settings on the controls allow you to maintain total control of your soaking experience.
Soothing Music
Speaking of your soaking experience, why not install a built-in sound system in your bathroom? Today, there are bathroom fans that quietly and efficiently clear humidity and odor from your bathroom, but they also double as a hidden, Bluetooth-connected speaker. You can stay connected to your playlist from your smartphone, tablet, or music player, all while luxuriating in your new tub.
Mirror…Mirror
Naturally, when we look in the bathroom mirror, we want to look our best. In order to put your best face forward, you might want to consider a wall-mounted, lighted mirror that changes lighting levels with push-button ease. You can adjust the LED settings to correspond to a day at the office, an outing in the sun, or applying makeup for a candlelit dinner. It's also perfect for shaving and it conveniently folds out of your way.
Be Water Wise
Being green doesn't mean sacrificing style or comfort. It just means that you can purchase a great-looking shower head that is also water efficient. According to the EPA, the average American family uses 40 gallons of water each day just from showering. By switching to a low-flow shower head, they could save approximately 2,700 gallons a year. Good for the environment and also good for your wallet, in terms of lower water bills.
Warm Fluffy Towels
Is there anything more comforting than a warm, fluffy towel after you step out of a bath or shower on a chilly fall or winter morning? Now this experience can be yours every day with the purchase of a heated towel warmer. They keep your towels toasty warm round the clock, so whenever you need one, it is within easy reach. There are many different types of warmers on the market that vary in price, style, size, and functionality, so you'll have to do your homework to find the towel warmer that best suits you and your bathroom.
These are just a few ideas on how you might upgrade your bathroom. There are other inexpensive fixes too, such as a new shower curtain, repurposed storage, a new magazine rack, luxury towels, and maybe even a chandelier.
The point is you don't have to spend a fortune in order to enhance the look, style, function, and comfort of your bathroom.