With 2019 just a blink away, it's time to start thinking about those resolutions – promises to ourselves to achieve certain goals and objectives. For homeowners, this is the perfect opportunity to ask yourself, "how can I get the most out of my property?".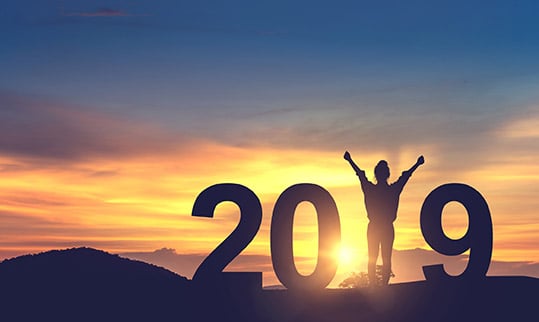 Here are the top 5 New Year's resolutions every homeowner should make for 2019:
1. Score Homeowners Insurance Discounts
Did you know that certain home improvements may qualify you for a discount on your homeowners insurance? It's true! Here are just a few examples:
A monitored burglar system

New electrical wiring

Being a non-smoker

Replacing broken pipes
If you've made improvements to your home within the last year, you'll want to check with your insurance agent about scoring some discounts in 2019!
2. Pay Your Mortgage On Time
With everything life throws at us, who has time to stress about late payments? Take control of your financial life this year and ensure that your mortgage payments are always on time.
Autopay is a great way to accomplish this – just set it, and forget it! Benefits of Autopay may include:
Peace of mind, knowing you won't miss a payment

Avoiding processing fees & late penalties

Making a positive impact on your credit score
Making on-time payments will truly give you a gift that'll last throughout the new year. Set up Autopay for your Carrington account today!
3. Make Extra Mortgage Payments
Do you dream about the day you write your last mortgage check? Depending on your current financial status and goals, you may want to consider making extra mortgage payments either every month or a few times a year to help you make that dream a reality faster. Some benefits of paying a little extra include:
Save on interest dollars

Build equity faster

Pay off your home sooner
The more you can contribute to your monthly payments, the better. Even just a few extra dollars a month can add up to make a difference in the long-run.
4. Review Your Property Tax Assessment
Check the value of your home to see if it has declined in value. If so, you may be able to save some money on your property taxes. Some ways to get started include:
Gather details of your property, including square footage, zoning, and amenities

Find out what your neighbors pay

Hire an appraiser
Check your local property tax assessor's website for more information about property assessment, dates, and appeals.
5. Refinance Your Mortgage
Refinancing your mortgage could potentially decrease your monthly payment and/or lower your interest rate. Who wouldn't want that? Oftentimes, homeowners are able to reduce their payments AND get cash out!
Cash out is a popular option for those with equity in their home. A cash out refinance can help fund things like:
Paying off credit cards

Home repair/renovations

Taking a vacation
See if you qualify! Give us a call today at 855-214-8780, and let's discuss your options.
Resolve to make 2019 the year you focus more on your home. Happy New Year!
© Copyright 2007-2018 Carrington Mortgage Services, LLC headquartered at 1600 South Douglass Road, Suites 110 & 200A, Anaheim, CA 92806. 888-267-0584. NMLS ID #2600. Nationwide Mortgage Licensing System (NMLS) Consumer Access website: www.nmlsconsumeraccess.org. Texas Office location at 6100 Tennyson Parkway, Suite 100, Plano, TX 75024 (Branch NMLS ID 1190594) AZ: Mortgage Banker BK-0910745. CA: Licensed by the Department of Business Oversight under the California Residential Mortgage Lending Act, File 413 0904. GA: Georgia Residential Mortgage Licensee 22721. IL: Illinois Residential Mortgage Licensee. MN: This is not an offer to enter into an interest rate lock agreement under Minnesota Law. MO: Missouri Company Registration 14-1746. In-State Office: Missouri Residential Mortgage Loan Broker License 14-1746. 251 SW Noel, Lees Summit, MO 64063. NV: Mortgage Broker License 4068 (Residential Mortgage Lending). NJ: Licensed by the N.J. Department of Banking and Insurance. NY: Lending: Licensed Mortgage Banker—NYS Department of Financial Services. New York Mortgage Banker License B500980/107664. Servicing: New York City Department of Consumer Affairs license numbers: 1264739; 2027784 & 2027786. This collection agency is licensed by the City of Buffalo license numbers: 555177; 555176 & 10033598. City of Yonkers Debt Collection Agency License Numbers: 9717; 9837 & 9826. NC: Servicing: Carrington Mortgage Services, LLC is licensed under North Carolina Secure and Fair Enforcement Mortgage Licensing Act and holds North Carolina Agency Licenses with permit numbers: 102107, 103455 and 112956. RI: Rhode Island Licensed Lender, Lender License 20112809LL. VA: Lender & Broker lic. #MC-5382: NMLS ID 2600 (www.nmlsconsumeraccess.org). WA: Consumer Loan License CL-2600. Also licensed in AL, AK, AR, CO, CT, DE, DC, FL, HI, ID, IN, IA, KS, KY, LA, ME, MD, MI, MS, MT, NE, NH, NM, OH, OK, OR, PA, SC, SD, TN, TX, UT, VT, WV, WI and WY.
IMPORTANT BANKRUPTCY NOTICE: If you have been discharged from personal liability on the mortgage because of bankruptcy proceedings and have not reaffirmed the mortgage, or if you are the subject of a pending bankruptcy proceeding, this letter is not an attempt to collect a debt from you but merely provides informational notice regarding the status of the loan. If you are represented by an attorney with respect to your mortgage, please forward this document to your attorney.
EQUAL CREDIT OPPORTUNITY ACT NOTICE: The Federal Equal Credit Opportunity Act prohibits creditors from discriminating against credit applicants on the basis of race, color, religion, national origin, gender, marital status, or age (provided the applicant has the capacity to enter into a binding contract); because all or part of the applicant's income derives from any public assistance program; or because the applicant has, in good faith, exercised any right under the Consumer Credit Protection Act. The federal agency that administers CMS' compliance with this law is the Federal Trade Commission, Equal Credit Opportunity, Washington, DC 20580.
NOTICE: All loans are subject to credit, underwriting and property approval guidelines. Offered loan products may vary by state. There is no guarantee that all borrowers will qualify. Restrictions may apply. This is not a commitment to lend. Terms, conditions and programs are subject to change without notice. Carrington Mortgage Services, LLC is not acting on behalf of or at the direction of HUD/FHA or any government agency. All rights reserved.
The consumer may be able to reduce their monthly payment by refinancing, however, the consumer's total finance charges may be higher over the life of the loan.