New Flooring 101: The Complete Guide to Refreshing Your Floor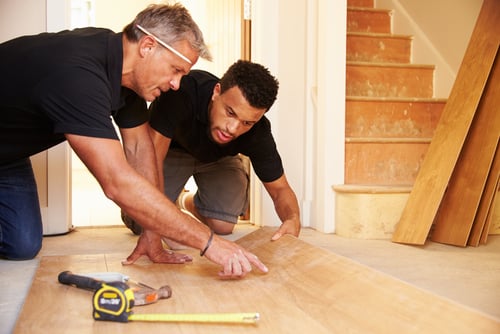 The holiday season is just around the corner, and before you know it, your home will be the host of family gatherings and friends dropping by with holiday cheer. However, you may feel like your home needs some TLC before then, and what better way to prepare than with new flooring! Not sure quite where to begin? Let Carrington help you get started.
Whether you plan to DIY your new flooring or call in a professional, here are some tips and tricks to ensure your floors are ready to take on the holiday hustle and bustle:
Choose the Right Flooring
When it comes to picking out your new flooring, the options can quickly become overwhelming. From hardwood and carpet to laminate and porcelain tile, it's easy to get lost in the sea of flooring options. However, finding your new flooring is more than opting for the most stylish-looking product—you'll need to factor in location, necessary durability, potential moisture, and costs.
This combination of practicality and personal taste is daunting for any homeowner, so here is a breakdown to help you on your journey to a successful flooring installation:
What Flooring is Right for You?
Hardwood: Hardwood floors are a traditional and well-loved option of many homeowners. They offer up warmth, durability, and a wonderful, natural feel to any living space. Additionally, hardwoods are incredibly versatile in the long term because they can be sanded and refinished four to six times throughout their lifetime (depending on plank thickness). However, this flooring is best installed by a professional.
Carpet: If you're looking to provide a cozy feeling to your family and guests alike, carpet is a fantastic option. You have a wide array of choices for style, pile, and cost. Carpet is also a great way to provide a certain amount of insulation and can work well for rooms that have no heating below them. Additionally, the quality and thickness of the padding you use below is integral to extending the life span of your new carpeting. However, this flooring style works best for living spaces walked barefoot or with low foot traffic, and is prone to showing stains easily. Just like its popular counterpart, hardwood, this style of flooring should also be installed professionally.
Laminate Flooring: Thanks to its easy installation and cost-effectiveness, laminate flooring is beloved by many DIY homeowners. Laminate flooring is composed of multiple wood-based materials that have been layered together and imprinted with a wood grain over top. Unlike being attached to your subfloor like carpeting or hardwood, laminate is considered a floating floor since each board connects to an adjacent board instead.
Tile: Tile can be a beautiful option for living spaces with high moisture content, like a bathroom or kitchen. From porcelain to terracotta, granite, or marble, you have an extensive variety of tiles at your fingertips. However, glazed porcelain is the most cost-effective for homeowners on a budget thanks to its durability. Tile provides the creative homeowner with the ability to combine different sizes, shapes, and colors to bring their new flooring dreams to life. While tile can absolutely be done by the DIY homeowner, those with less experience can practice and hone their skills by focusing on a less-used room—like a basement bathroom.
The Cost of DIY vs. Professional
Another important aspect to take into account on your new flooring journey is cost. While it's cheaper to DIY a flooring installation, certain flooring options (as mentioned above) should be done by a professional. While professional costs may vary based on where you live, the average hardwood installation for a 500-square-foot space can range from $3,000 to $10,000 and the average carpet installation will cost $1,500 to $4,000. For a DIY floor installation, costs range from $.50 to $15 per square foot depending on your materials and your installation surface is prepped and ready for action.
Room Prep
You've finally decided on your flooring and whether or not to have a professional come and do your installation—how exciting! Now comes the important part: room prep. Preparing your living space for its new floor can help save your contractors time and give you a solid base to start. Make sure small children and pets are safely out of the way and are unable to sneak into dangerous areas during the installation process. After you've appropriately blocked off the area and removed any furniture, appliances, or delicate items like curtains and wall hangings, you'll need to clean the floor prior to laying your new flooring. Lastly, you'll want to verify the inside temperature of the room is right for installation. While this may seem excessive, each flooring type has a recommended temperature for before, during, and after the installation process. Paying attention to small details now will save you the stress of repairs later on.
Time Management
If you're planning on your floors being ready for hosting this holiday season, time management is essential. In addition to actual installation time, you'll need to make sure to account for time to acclimate your floors.
Here is a quick breakdown of installation and acclimation time for each material type:
When Will Your New Floors be Ready?
Hardwood: Installation can take anywhere from one to three days on average and will need seven days to properly acclimate.
Carpet: Carpet installation usually only takes up to one day at most and is ready for use immediately.
Laminate: Installation typically takes four to five days, with an extra day added on for each additional room. Acclimation is two to three days to prevent particle board expansion.
Tile: Installing new tile is a multi-step process that can take from one to three days, but laying the tile itself can take a beginner around 16 hours to complete. You'll need to wait at least 48 hours to acclimate your tile and seal your grout.
And there you have it—new floors ready to take on any holiday gathering you plan to host, no matter how big or small.