Home Maintenance 101: A Checklist for Your Home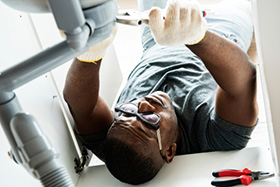 The start of a new year is a great time to figure out things around your house in need of updating. Unsure of where to start looking? Carrington is here to help! Check out our comprehensive list below:
Air filters:

Changing your air filters regularly not only keeps your HVAC system operating smoothly but also helps maintain air quality inside your home—which is even more important if someone in your home has allergies. While how often changing out your air filters depends on who lives in your home, the average breakdown is this:
One occupant and no pets or allergies: Every 6-12 months

Ordinary family home without pets: Every 90 days

Ordinary family home with at least one dog or cat: Every 60 days
Furnace filters: Furnace filters come in different thickness sizes, which will determine how often they need to be changed. Just like your air filters, some other factors to take into account other than filter thickness are how many people live in your home and whether or not you have any furry family members.

For 1- to 2-inch filters: Every 1-3 months

For 3- to 4-inch filters: Every 6-9 months

For 5- to 6-inch filters: Every 9-12 months
Water heater: Generally speaking, professionals recommend replacing your water heater every ten years. If you're seeing rusty water, hearing rumbling noises, or find your water heater leaking, it may be a sign your current water heater needs replacing.


Laundry room appliances: Your washer and dryer play a massive role in your home, and the last thing any homeowner wants to deal with is a broken washer or dryer.

For washing machines, the average lifespan is eight to 12 years. However, if your washing machine needs repairs that exceed $500, it's worth considering a full replacement instead. The most common repairs homeowners encounter include gasket replacement, switch failure, and valve issues.
On the other hand, your dryer should last 10 years on average. You can help extend your dryer's lifespan by regularly cleaning out the lint trap and keeping the dryer vent clean.



Dishwasher:

A 10-year lifespan is the norm for dishwashers, but you can potentially extend your dishwasher's life by regularly cleaning out your dishwasher and cleaning out its filters when needed.




Refrigerator:

Most refrigerators will last you 6 to 15 years, but if you're experiencing ice maker failure, a clogged drain, or control board failure, it may be time to say goodbye to the old and install a newer model.




Exterior paint:

A dingy-looking exterior with flaking paint takes away from your home's curb able and market value. Exterior paint usually lasts around 15 years but may need freshening up sooner depending on the weather conditions where you live. Take a walk around the outside of your home and check for peeling paint, scuff marks, or any other markings that may indicate it's time to break out the coveralls and ladder.
Your home is your sanctuary, and you deserve to live in a home without the stress of systems and appliances breaking down unexpectedly. Use the new year to get a fresh start on keeping your living space in tip-top shape!