While the arrival of the winter season means holiday cheer abound, it also means temperatures are dropping—and keeping your home warm and toasty is a top priority. For many homeowners, the beginning of colder weather can mean an increase in your monthly energy bill. From windows to doors and all the hidden cracks in between, it can be overwhelming to decide where to begin. Let Carrington help you get started.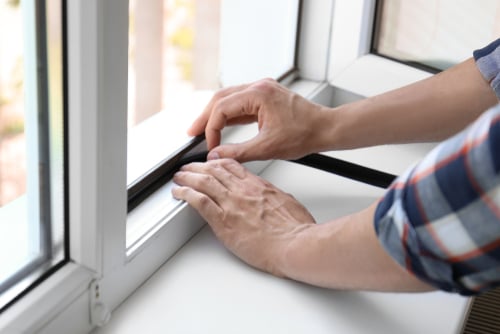 Here are a couple of tips to help ready your home for the cold weather ahead:
Shutting the Door on Chilly Weather
Your home is full of hidden nooks and crannies that could be letting heat slip out and contribute to higher heating costs. From doggy doors to that miniscule gap underneath your front door, there are a myriad of spots that you'll want to seal up before cold weather strikes.
Take a walk around your home, paying extra attention to any windows, externally facing doors, and even your fireplace. For drafty gaps under your doors, check out your local hardware store for a door sweep. A door sweep is a broom-like attachment to install underneath your door that acts as a blockage against the cold air outside. You'll need to trim your door sweep adequately and keep it in place with four or five screws. This is a great permanent option for your home, and most door sweeps are under $10 at the hardware store.
For those in need of a quick, temporary fix for the impending draftiness, a DIY door snake is a great solution. You can either sew a long, thin cloth bag out of scrap fabric, or find something similar laying around your home. Once you've filled the sack with dried peas or rice, place it in front of the gap and stop the cold in its tracks!
Keep the Cold Weather on the Right Side of Your Windows
Once you've sealed up pesky cracks in your doors, it's time to check your windows. For homeowners living in older houses, these temperature drops bring out the worst in your potentially original windows. One inefficient window can leak as much cold air into your home as a hole the size of a brick, and multiplied can be the culprit behind your skyrocketing energy bill.
However, by installing energy-efficient windows, you can keep cold out and the warmth of your home where it belongs. Energy-efficient windows work in a multitude of ways to maintain comfort in your home, including argon gas between the panes of glass, multiple layers of weatherstripping, and insulation around the outside of your window frame. Granted, it's important to keep in mind the cost of replacing your windows. On average, Energy Star-qualified windows start around $270, including installation.
If installing brand-new windows isn't quite in the budget for you this holiday season, an alternative is quick-sealing your current windows. Most kits available contain the necessary plastic film and double-sided tape to apply along the inside of your windows. Once you've heated the plastic with a hair dryer, the film becomes nearly invisible while keeping your home insulated against chilly weather. You can find these kits online or at your local hardware store for under $15 and are a great budgetary, temporary solution to drafty windows.
And there you have it—a way to keep your energy bill in check while keeping your family warm this winter season.