Home Maintenance 102: Spring Edition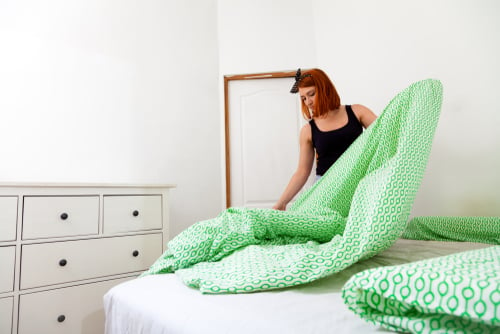 March is almost already at its end, which means it's time for spring cleaning and home maintenance! Spring cleaning can be an opportunity to start a new season with an organized home, and Carrington is here to help! Check out below for a comprehensive list of spring cleaning tasks—we've even broken them down into groups so you can focus on one set of manageable tasks each day:
Day One:
Dusting – Not knowing where to begin when it comes to spring cleaning can make getting started difficult. However, dusting your whole house from top to bottom is a great place to start! Make sure you pay special attention to any out-of-reach areas, like the top of bookcases, shelving, and the tops of ceiling fan blades. Dust bunnies, be gone!

Vacuuming – Once you've kicked up the dust from every nook and cranny in your home, it's time to vacuum. Hit high traffic areas first, like your entryway, living room, and hallway spaces before you move on to less noticeable areas like bedrooms.

Carpet scraping – Pet hair can be the bane of any homeowner's existence, and sometimes vacuuming just doesn't cut it. A carpet scraper on Amazon costs under $10 and is a fantastic, easy way to ensure your furry family member isn't leaving their mark on otherwise clean carpets.

Mopping – Just like vacuuming, cleaning your hardwood and/or tile floors will get your home feeling cleaner in a jiffy! Focus on areas that get scuffed up or are prone to accumulating tracked in dirt and grime.

Cleaning your windows – Let the sunshine in and banish window streaks. Go from top to bottom, and don't forget to clean your frames as well!

Day Two:
Fridge cleanout – After a long winter, sometimes we forget to habitually check the expiration dates on sauces and spreads in our fridge. Take the time to go through your fridge, toss anything expired, and give your shelves a thorough wipe down before putting everything back and restocking necessary items.

Cabinet cleanout – Just like your fridge, your cabinets house a multitude of forgotten items that may either be expired or just collecting dust. Make sure to go through your spice rack for any duplicates and anything that looks like they were last used in 2019.

Cleaning kitchen appliances – Our kitchen appliances can take a serious beating and need just as much TLC as other appliances in your home! Wipe down your stovetop, sink, and fridge for a fresh sparkle, as well as giving the inside of your oven and dishwasher some attention. For stubborn stains and grime, try using baking soda and white vinegar to break down any extra gunk before wiping it away.

Day Three:
Rotate bedding and towels – Now that spring is right around the corner, it's time to strip off that flannel and fleece bedding and swap it for something lighter weight that will have you and your family members sleeping comfortably as the weather warms up. Towels are just as important as your bedding and should be regularly swapped out to avoid bacteria build-up. Don't forget that bath mat!

Clean furniture upholstery – When was the last time you cleaned your sofa or that family-favorite chair? There's no telling how much dirt and grime lay hiding in the fabric weave, and a steamer will do just the trick!

Clean laundry appliances – Your washer and dryer put in a lot of work for you and your family. To ensure they're working in tip-top shape, start a habit of regularly cleaning out your dryer's lint trap, and running your washer on a self-cleaning cycle to ensure your clothes are staying fresh and actually getting clean.

Clean out and organize closets – We tend to accumulate clothes, and spring cleaning is not only a great time to swap out winter items for spring and summer, but also finding things you haven't worn in at least six months. Take any unused or unwanted clothing to your local thrift store or second-hand shop instead of throwing them away.

And there you have it! Spring cleaning will be done before you know it and your home will feel refreshed for the months to come.