Military Makeover with Montel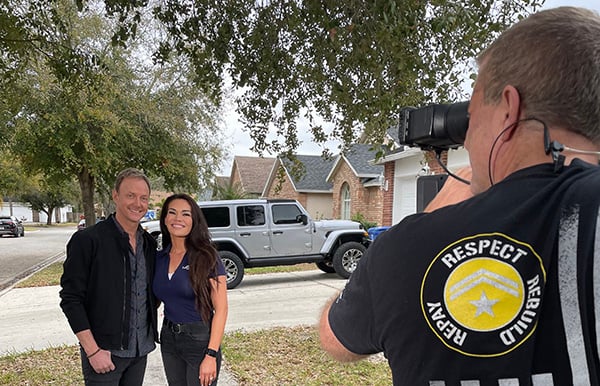 In keeping with Carrington's ongoing support of U.S. Veterans, the company is pleased to announce Carrington Mortgage Services, LLC will be featured in an upcoming episode of the Veteran-focused TV show "Military Makeover with Montel." The men and women of our military risk everything to protect our country's freedom and our way of life, and this award-winning show seeks to repay them, carrying out a top-to-bottom home renovation for members of our military and their loved ones. Kat Cox, Senior Associate, Management for CMH, and Art Edmonds are pictured below and will be making an appearance during the upcoming episode.
The episode features Kari and Adam Clarke, two heroic and deserving military Veterans. The couple will be receiving a complete transformation to their forever family home, Military Makeover-style, as the show completes designs and renovations on their behalf.
Part three of a four-part series, the episode is scheduled to run on Lifetime and American Forces Network on Friday, March 25th, and Thursday, March 31st.
Veterans protect the place we all call home, so they deserve one to call their own. That's why we're also proud to offer VA loan products to active-duty and retired service members, Veterans, and their families. We also have a wide selection of FHA, conventional and Non-QM loans designed to fit a range of situations and needs.
The Carrington suite of benefits includes competitive VA loan products, financial education for our nation's veterans, a dedicated Homeownership Concierge and so much more. With Carrington, Veterans can navigate the home loan process with ease.
If you missed the original air date on March 25th, make sure to tune in to Military Makeover with Montel on the Lifetime network on March 31st, 2022.