Enhancing Your Home with Landscaping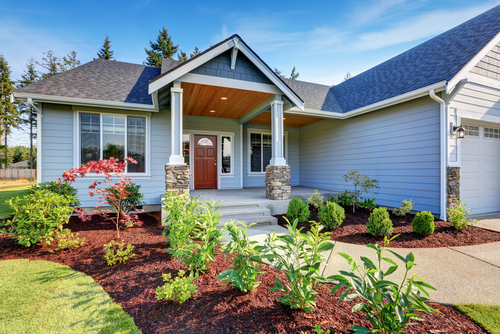 When most people think of investing their hard-earned money into a home upgrade or remodel, they generally think of adding a deck, or expanding a bathroom, or remodeling a kitchen. Landscaping is rarely top of mind.
But landscaping is an effective and natural way to improve the appearance of your home, and may increase its value. Of course, the amount of landscaping is determined by one's budget but even a simple landscaping design can make your house look much more attractive and appealing.
So, if you're thinking of enhancing the beauty of your home with a well-designed landscaping plan, here are some reasons to consider it:
Increasing the Value of Your Home
Adding trees, shrubs, flowering plants, and other natural elements is an effective way to create a favorable impression of your home. Naturally, this is an important consideration for those homeowners who are thinking of selling their house.
Improves Curb Appeal
Most people take pride in their home and they certainly don't want to have the least attractive house in their neighborhood. An investment in landscaping can dramatically improve the appearance of one's home and enhance its curb appeal.
Makes Your Home More Welcoming
After a long day at work, it's a comforting notion to know that you will be returning to a warm, welcoming, and calming space. Your home is truly your sanctuary and a well-executed landscape design can contribute to a sense of reassurance – a place where you can relax and rejuvenate.
Landscaping can also provide an ideal spot to spend quality time outdoors with family and friends. Trees, plants, flowers, and grass can create a cool and comfortable recreation area where guests can be welcomed and entertained.
Connecting with Nature
These days, most of us live in urban centers and our opportunities to connect with nature are often limited. It is so important to your health and well-being to be outdoors, breathing fresh air, and savoring the beauty of nature. Having this kind of experience on a regular basis is deeply restorative and an antidote to daily stress.
Creating a space like that at your home is so important and creative landscaping is an effective means to accomplish that.
Preserving Nature in Your Neighborhood
When residential areas are cleared for construction, too often trees, plants, and other green spaces are cut down or eliminated in the process. By planting trees, shrubs, flowers, bushes, and grass, you are helping to preserve nature in your immediate area.
If possible, try to plant species that are native to your region. Not only will your plants thrive more efficiently but you will be contributing to the overall conservation efforts in your area.