This year, the first day of Spring fell on March 20, 2021 at precisely 5:37 a.m. And as sure as flowers beginning to bloom, people will turn their attention to the annual tradition of deep spring cleaning. Like Spring itself, it is an opportunity to clean and freshen up your home, and to scrub out those dark winter blues.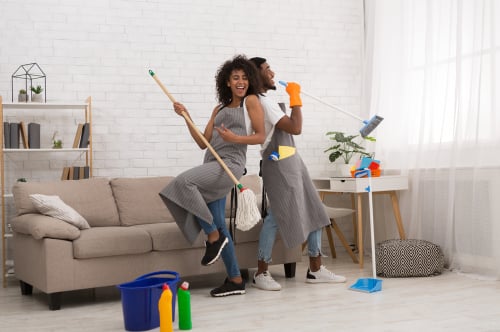 It's a big undertaking, for sure, so we're providing a few suggestions on how to make the process a little less daunting.
Have a Plan
Analyze your home. Which areas require the most attention? Which areas did you neglect during routine cleaning? Start there. Like any good General going into battle, create a plan of attack and stick to it.
Room by Room
The most effective way to deep clean your house is to do it room by room. Create cleaning checklists for each room as a way to help you get organized and to make sure no task is overlooked.
Think Green
In an effort to be truly clean, you don't want to expose yourself and family to a lot chemicals and toxins found in some cleaning products. One fantastic, all natural, cleaning device is a steam cleaner. With its hot water vapor, a steam cleaner can be used on your kitchen appliances, bathrooms, hard floors, tiles, and outdoor areas. Also, consider using a combination of white distilled vinegar, baking soda, and water as a cleaning agent. These ingredients are non-toxic and affordable, and have been used for cleaning for generations.
From Top to Bottom
When spring cleaning your home, it's best to work from the top down. By removing cobwebs and dust from your ceilings and fans first, this will force any debris downward, and prevent you from having to re-clean your space. You can use your vacuum's extension hose to do this. Afterwards, dust all your furniture and household items before vacuuming the dirt off your floors.
Clearing Clutter
One of the most important aspects of spring cleaning is de-cluttering, especially since we're all spending more time at home, particularly in our home offices. Keeping a clean and organized work space is more important than ever.
Sort your clutter into three categories – trash, give away, or save – and then dispense of it as soon as possible. Drop off a box of unwanted items to your local charity or plan for a yard sale soon.
Seasonal Chores
Some projects are undertaken seasonally, in preparation for more outdoor living and warmer weather. For example, clean your patio, grill and exterior windows.
Also, put away winter clothing and bedding, and bring out your spring wardrobe and décor. Your house will feel more refreshed and clean.
The Air You Breathe
Don't forget to clean and/or replace the filters in your furnace and HVAC systems, in order to purify the air you breathe. This is one of the most important and neglected parts of spring cleaning. Also, consider adding an air purifier if you don't already have one. It's a healthy way to avoid allergens, indoor chemicals and unwanted odors in your home.
A Family Affair
Consider getting the entire household involved in your spring cleaning endeavor and make it a family project. Even young children can be given age-appropriate chores so everyone feels included. Turn on some music while you work and make it fun. And when your spring cleaning is completely done for another year, figure out a family reward to celebrate a job well done.