Meet Carrington Charitable Foundation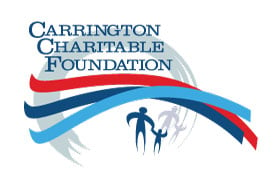 The Carrington Charitable Foundation (CCF), the nonprofit of the Carrington Family of Companies, strives to give back to the communities in which we live and work. CCF is proud to support over 100 charities across the United States through fundraising events, donation drives, and volunteering.
Our Veteran-focused Signature Programs focus on providing Mobility, Stability, Purpose and Prosperity for Veterans returning from the post-9/11 conflict battlefields. Through these programs, CCF honors the sacrifices of our nation's servicemen and women who have dedicated their lives to protecting our country's freedom.
MOBILITY
CCF's ongoing support of the Veterans Airlift Command (VAC) helps to provide free, private air transportation for wounded Veterans and their families, easing the burden of travel for medical, work and compassion reasons.
STABILITY
Through Carrington House, CCF provides custom, adaptive housing for post-9/11 combat wounded Veterans as well as for struggling Gold Star families who have lost a family member in combat, enabling them to regain independence in their own homes. This is accomplished by repairing, renovating or constructing a home tailored to the specific needs of each Veteran and their family.
PURPOSE
By supporting other like-minded nonprofits such as the Travis Mills Foundation, CCF provides resources to improve the mental health of Veterans transitioning from military to a civilian lifestyle.
PROSPERITY
To ensure Veterans have a prosperous life post service, CCF supports programs that teach interviewing skills, resume assistance and aid Veterans in applying skills they learned during their service life to the civilian workforce.
Our premier charitable fundraising event is the Annual CCF Golf Classic, which benefits our Veteran-focused Signature Programs. Since 2011, we have raised over $27 million.
In 2019, we launched our Round Up program for Carrington customers. Through this program, customers have the opportunity to support CCF by "rounding-up" their monthly mortgage payment to the nearest dollar, with the additional amount being made as a donation to CCF. In addition to rounding up, borrowers also can elect to donate an additional $1, $5 or an amount of their choosing.
To date, the CCF Round Up program has raised more than $372,000 to support CCF programs for combat wounded Veterans across the United States.
Our work is never done. We are continuing to strive to make the lives of our Veterans just a little bit better; and we are always humbled by the support you provide that allows us to continue the programs that serve Veterans and other deserving nonprofit organizations. Thank you for joining us in the mission to aid our nation's Heroes. Your support makes all the difference!
To learn more about CCF, please visit their website here.