Looking Back on a Great Year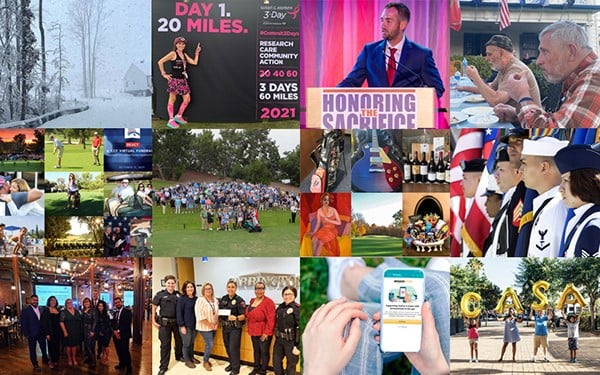 We hope you will join us to take a look back at some of the many CCF stories from 2022 – another great year of giving for CCF thanks to Carrington donors, supporters and associates. 2022 was another year in which we all worked together to help Veterans and their families and to contribute to the communities where we work and live. Here's a summary of some of CCF's 2022 top stories and successes, with links to the full articles on the CCF website.

JANUARY

Carrington House Update: The Jernigan Home
Although the Carrington House homes for the Miles, Melancon and Jernigan families are complete, and the families have moved in, CCF stays in touch with our Veteran families. Recently, Carrington revisited the home for U.S. Marine Corporal Michael Jernigan and his wife, KimberLee, to follow up on a few items. You'll find the full story here.

FEBRUARY

The Latest from the Travis Mills Foundation
As part of its Signature Programs, which provide diverse ongoing assistance to Veterans and their families, CCF has long assisted such Veteran-focused nonprofits as the Travis Mills Foundation, which supports CCF's Purpose pillar. As part of the Travis Mills Foundation program, post-9/11 Veterans who have been injured in active duty or as a result of their service to our nation receive an all-inclusive, all-expenses-paid, barrier-free vacation in Maine, where they participate in adaptive activities, bond with other veteran families and enjoy much-needed rest and relaxation in Maine's outdoors. Here's an update on the organization's progress.

MARCH

CCF's Round Up Program Has Raised More Than $265,000 for Veteran Initiatives
In Sept. 2019, CCF introduced a Round Up program for Carrington Mortgage Services customers that provides them with an easy way to support the great work CCF is doing in communities across America by "rounding-up" their monthly mortgage payment to the nearest dollar, with the additional amount being made as a donation to CCF. By March 2022, the CCF Round Up program had raised more than $265,000 to support CCF programs for combat wounded Veterans across the United States. Here's the full story.

The Honor Foundation Veterans at Work at Carrington
Carrington created the Senior Management Associate (SMA) program to introduce graduates of The Honor Foundation's program, which focuses on career training for former U.S. Special Operations Forces (SOF) members, to work and life at our company. Read all about these Veterans, who are now creating success at Carrington and Vylla, right here.

Final Results: 2022 Carrington Community Dash
The 2022 Carrington Community Dash contest boasted 171 Associates. The winning team, turning in an impressive total of 2,349.49 miles, was One For All. Each member of the team took home a $250 Amazon Gift Card. Get the full results here.

APRIL

Gold Star Family Housing Initiative Assists Two Gold Star Families
Since its inception, the Stability pillar of the CCF's mantra of Mobility, Stability, Purpose and Prosperity has focused on making sure catastrophically wounded Veterans and their families have a home they can call their own, and begin to heal and feel independent. In 2020, Carrington created the Gold Star Family Housing Initiative to pay off the mortgages of struggling Gold Star families. The Initiative first assisted the families of U.S. Navy Lieutenant (SEAL) Mike McGreevy and U.S. Navy Special Operations Chief Petty Officer (SEAL) David Fegyo – both of whom made the ultimate sacrifice while serving their country. By paying off their families' mortgages, CCF relieved a major financial burden to facilitate their stability. You'll want to read more about these heroes here.

CCF Supports The Transplant Forum
The Transplant Forum at Columbia University Irving Medical Center is dedicated to raising awareness and funding for transplantation research across all organ disciplines. As a committed group of scientists, clinicians, patients, and families, the internationally renowned Transplant Forum works collaboratively to support research focused on improving outcomes and quality of life for solid organ transplant patients. One Carrington Associate has a deeply personal connection to The Transplant Forum. Read the full story here.

MAY

On Memorial Day, The Carrington Companies Remember America's Heroes, Now at Rest
Every year, Bruce Rose, Chief Executive Officer & Founder of The Carrington Companies, shares his gratitude for those who fought and sacrificed to preserve the greater freedoms we have long held dear. In this message, Bruce shares details about CCF's Gold Star Family Housing Initiative and CCF's decision to retire the mortgages of struggling Gold Star families. Read the full message here.

CCF Grants to Indiana Nonprofit Organizations
Westfield Associates have a long history of supporting local nonprofit causes. In 2022, CCF decided to split its traditional $10,000 grant equally among three different Indiana-based nonprofit organizations: No Kid Hungry Indiana, Gleaners Community Food Bank and the Susan G. Komen Foundation 2022 Komen Indianapolis MORE THAN PINK Walk on Saturday, Oct. 8, 2022. You'll find the full story here.

JULY

Associate's Nonprofit Assists Global Refugees
After a senior loan officer for Carrington Mortgage Services based in Jacksonville, FL, volunteers within the refugee community, he and his wife start a nonprofit to offer a variety of support services, empowerment learning classes, crisis and refugee mental health assistance in Northeast Florida. You'll find this story here.

Emilia Castillo's races for the Cure
Sometimes, one three-day walk for a good cause just isn't enough. 2022 marked the 12th time that Emilia Castillo, EVP, Treasurer for CMH in Aliso Viejo, CA, joined in the annual three-day, 60-mile walk, to raise needed funds and awareness for breast cancer through the Susan G. Komen Race for the Cure. As in years past, CCF vowed to match up to $10,000 of breast cancer-related walks and fundraising in 2022. Read Emilia's story here.

Honoring the Sacrifice 8th Annual American Heroes Dinner
CCF reserved a $5,000 table sponsorship at the Honoring the Sacrifice 8th Annual American Heroes Dinner that took place on July 15, 2022, in Chattanooga, TN. The event was sold out, so two Carrington Mortgage Services Associates were happy to be able to be there. The evening's guest speaker was retired U.S. Air Force fighter pilot Lt. Col. Dan Rooney who also is a professional golfer and author of the inspirational book Flying into the Wind. Check out this story about the event.

SEPTEMBER

An Impressive History of Fundraising for Veterans
The 10th CCF Golf Classic on Monday, October 10, 2022, at the Pelican Hill Golf Club in Newport Coast, CA, was the latest in a long series of annual events that raise important funds for CCF's Signature Programs, which continue to provide essential Mobility, Stability, Purpose and Prosperity for Veterans and their families. Let's take a moment to look back at the Golf Classics from years past. Check out the story here.

Veterans Joining Us at the CCF Golf Classic
Here's a look at the Veterans whom we were honored to have as distinguished guests at the 2022 Carrington Charitable Foundation Golf Classic. CCF's programs help a wide range of Veterans with medical treatment, physical rehabilitation, education, housing, transportation and employment. Here are the stories of the Veterans who joined us at this year's tournament.

Submit Your Favorite Animal Charity for a Grant from CCF!
For the eighth year in a row, CCF pledged to issue grants to selected animal shelters and animal rescue and support organizations in need of financial assistance. In 2021, 21 organizations nominated by Associates each received grants of either $500 or $1,000! Associate nominations approved by the CCF Board will receive grants until CCF has distributed a total of $12,000. See the below grant section to see which animal rescue-related nonprofits are receiving grants in 2022. And read the original article here.

OCTOBER

Carrington Charitable Foundation's 10th CCF Golf Classic Raises More Than $2 Million for Wounded Veterans
After a two-year hiatus during the pandemic, the Carrington Charitable Foundation (CCF) held its 10th CCF Golf Classic benefitting CCF's Signature Programs that support post 9/11 combat wounded American Veterans on October 10, 2022, at The Resort at Pelican Hill in Newport Coast, Calif. The event raised more than $2 million for its initiatives that enable Mobility, Stability, Purpose, and Prosperity for U.S. servicemen and women returning from post-9/11 battlefields. CCF is the nonprofit organization of The Carrington Companies. More than 250 golfers participated and the event culminated in a dinner and auction attended by more than 450 people. Read all about the event here.

The 2022 Associate Auction Basket Competition Winners
The 2022 Carrington Charitable Foundation Golf Classic was a huge success, raising more than $2 million for CCF's Signature Programs to assist Veterans and their families. Part of that success was due to the silent auction success created by the baskets put together by teams of Associates across Carrington and Vylla, in such diverse categories as golf outings, a cabin in the woods vacation, watches and jewelry, spa packages, gourmet foods, pet supplies, personal electronics, artwork, sports memorabilia, diverse selections of fine wines and much more! You'll find this year's winners here!

Carrington Charitable Foundation Sends 125 Veterans to NFL Game
The Carrington Charitable Foundation (CCF) is dedicated to helping U.S. Veterans everywhere, as demonstrated by its recent 10th CCF Golf Classic when it flew in service members throughout the country for the event. And the organization is committed to helping service members in the communities where we work, as it also sent 125 members of our military and their families to the NFL's Salute to Service military appreciation game between the Jacksonville Jaguars and Las Vegas Raiders on Sunday, November 6, in Jacksonville, FL. Read more here.

Breast Cancer Awareness: 2 Associates' Stories and Last Call for Grant Nominations
October is Breast Cancer Awareness Month. It's a time devoted to educating everyone about how this pervasive cancer affects one in eight women, and why early detection and access to high-quality health care are the best methods of prevention. Carrington Associates consistently do their part to help raise awareness of this important cause every year by participating in walks, runs, and other fundraising events throughout the country. Read about two Associates and their personal connections to breast cancer here.

NOVEMBER

Sign Up for AmazonSmile in the App
Want to help make a difference while you shop in the Amazon app, at no extra cost to you? The AmazonSmile program is a great way to give to the Carrington Charitable Foundation every time you shop with Amazon when you make eligible purchases. Click here for details about AmazonSmile (you'll need to try the link from home). Get all the details on how AmazonSmile works here.

Plano Associates Collect Donations for Christmas Cops
Christmas came early this year! Carrington's Plano office collected $3,500 in cash donations and new clothing on behalf of the Plano Police Department as part of the annual Christmas Cops program. Contributions were received from Vylla Title, Investor Relations, Customer Collections, and the Bankruptcy team. The Vylla Title team presented the Plano Police Department with a $2,800 contribution at Carrington's Plano office on Monday, November 7. Read the full article here.

Carrington Associates Represented CCF at HVAF's Operation Alpha Gathering
The Helping Veterans And Families (HVAF) gathering on November 11, 2022, is billed as the "Biggest, Bestest" Veterans Day Party in the state, and Carrington Associates were there. The Carrington Late Stage management team in Westfield, IN, attended Operation Alpha 2022 – a benefit fundraiser on Friday, November 11, 2022 – on behalf of the Carrington Charitable Foundation (CCF). Read the full article here.

This 2022 Veterans Day
In this heartfelt message, Bruce Rose, Chief Executive Officer & Founder of The Carrington Companies, shared his thoughts on Veterans Day and the work CCF does on behalf of Veterans and their families. Read the full message here.

DECEMBER

CASA Holiday Children's Gift Drive
Once again this holiday season, CCF is proud to support CASA "Court Appointed Special Advocates" Orange County. For several years, Associates in Anaheim and Aliso Viejo have contributed to the CASA Holiday Donation Campaign. Since 2013, Associates have fulfilled an amazing 2,250 gift requests for deserving children. We want to do whatever we can to help these children have a great holiday season.

CCF 2022 GRANT ROUNDUP
One more thing: Here are the grants paid out by CCF to nonprofits during 2022 by month, with monthly totals, as well as the total paid to the below-listed organizations.

February/$2,500
Habitat for Humanity of Greater LA/$2,500

March/$2,500
Special Ops Survivors/$2,500

April/$1,172,534
Alzheimer's Orange County/$83
American Foundation for Suicide Prevention/$2,570
ASPCA/$665
Columbia University/$25,000
Folds of Honor Foundation/$255
Gold Star – NewRez/$435,576
Gold Star - Rocket Mortgage/$449,895
Honoring the Sacrifice/$205
Illumination Foundation/$1,350
Laura's House/$2,040
The Honor Foundation/$250,000
The Leukemia & Lymphoma Society/$570
The Pediatric Cancer Research Foundation/$2,180
Veterans Airlift Command/$2,145

May/$20,385
Gleaners Food Bank of Indiana/$3,333
Honoring the Sacrifice/$5,000
National MS Society/$385
Share Our Strength/$3,334
Susan G. Komen Foundation/$3,333
Veterans Outreach OC/$5,000

June/$600
Dana-Farber Cancer Institute, Inc/$600

October/$5,245
The Hole in the wall Gang Fund/$100
The Jacksonville Jaguars Foundation/$5,145

November/$669,652
Animal Hope Inc/$500
Animals Deserving Of Rescue Everywhere Inc/$500
Apollos Arc Animal Rescue And Care/$500
Beagle Freedom Project/$500
Blue Ridge Bull Terrier Club/$500
CASA of Orange County, Inc/$5,000
Hearts United Cat Rescue Inc/$500
Helping Veterans and Families of Indiana/$1,500
Susan G. Komen Foundation/$10,152
The Honor Foundation/$250,000
Travis Mills Foundation/$100,000
Veterans Airlift Command/$300,000

December/$19,000
AHeinz57/$500
Animal Defense League/$500
Animal Friends of the Valleys/$500
California Labradors Retrievers And More Rescue/$500
Caring Fields Felines/$500
Caring Hands Humane Society/$500
Friends of Bisbee Animal Shelter/$500
Golden State Humane Society/$500
GSROC (German Shepard Rescue of Orange County CA)/$500
Hearts Alive Village/$500
Heaven After Hell Rescue/$500
Houndhaven Inc./$500
Humane Society of Indianapolis/500 K911 Resq/$500
Maine Paws for Vets/$500
Mia Foundation Ltd./$500
Moonshine Wildlife Rehab/$500
North Texas Australian Shepherd Rescue/$500
OC cats Kitty Camp Corporation/$500
Pet Rescue Pilots /$500
Pink Heart Rescue Inc/$500
Ray of Light Farm/$500
Redemption Rescue Inc/$500
ReRide/$500
Rescue Me/$500
Rhodesian Ridgeback Rescue Inc/$500 S.O.A.R/$500
Savannah Cat Rescue Inc./$500
Saving Carolina Dogs Rescue & Adoption Network/$500
Scdr Inc., dba Second Chance Dog Rescue/$500
Southern California Bulldog Rescue Inc./$500
Stealing Hearts Rescue/$500
Stray Paws Animal Haven/$500
S'Wheat Rescues & Adoptions Inc/$500
The Animal Rescue Mission/$500
The Gentle Barn/$500
Tiny Paws Pug Rescue/$500
Turtle Mountain Animal Rescue/$500
Wright-Way Rescue/$500

Grand Total/$1,892,416

*Please note: CCF is still in the process of paying out some of the $22,000 total in Animal Awareness grants.