On July 4, 1776, the Continental Congress issued a Declaration of Independence which stated that the thirteen American colonies were no longer subject to the rule of the British monarch, King George III and that they were now united, free, and independent states. And thus, the United States of America was born and every year, on July 4th (also known as Independence Day), we celebrate the founding of our great country.
For most Americans, there are many traditional ways to enjoy this federal holiday, including annual parades, barbecues, picnics, baseball games, family reunions, concerts, fairs, and capping off the day, a spectacular fireworks display. No matter how you choose to spend the day, it is always a great time shared with family and friends.
In the spirit of the holiday, we thought we'd offer a few ideas on other unique ways you might choose to honor the occasion.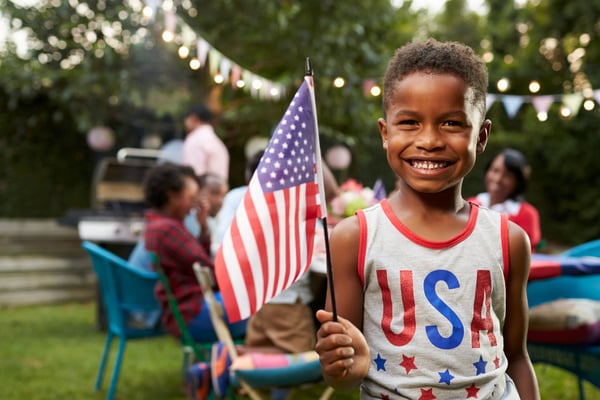 A Salute to the Union
On July 4th at noon, every Army military base that possesses the necessary equipment will conduct a special 50-gun salute to the nation. This National Salute was established in 1810 by the War Department and the number of guns fired was equal to the number of the states in the Union.
If you're interested in witnessing this tradition, check with your nearest Army base to see if they will be conducting the ceremony. However, if you decide to attend, make sure you arrive early. The salute only takes about four minutes total and you won't want to miss it.
Historic Reenactments
Many historical reenactment societies use the 4th of July holiday to preserve the memory of the American Revolution by offering demonstrations from the period.
Typically, amateur hobbyists and history enthusiasts on uniforms and implement a plan to recreate aspects of a historical event or period. The reenactors often do research on the equipment, uniform, and other gear they will carry or use, and they often buy the apparel or equipment from specialty stores or make the items themselves.
Check with your local historical society to find out what events are being held in your area.
Hot Dog Eating Contest
Every year, Nathan's Famous Fourth of July International Hot Dog Eating Contest is held in Coney Island. It is competitive eating's biggest event of the year. The reigning champion is Joey Chestnut, who ate 74 hot dogs in 10 minutes. This legendary competitive eater has won Nathan's event 11 times. Miki Sudo is the reigning female champion and in 2018, she ate 37 hot dogs.
Though Nathan's hot dog eating contest is a nationally televised event, you might check your local listings to see if there is a similar event being held in your area. Many local communities sponsor their own hot dog eating contests, so if this is something you'd like to see – or participate in – check it out!
Patriotic Bike Parade
We are all familiar with the traditional 4th of July parade that features marching bands, festive floats, local celebrities, and classic cars. But what if you and your family, friends, and neighbors organized a local patriotic parade featuring decked-out bikes and wagons with streamers, pinwheels, and flags? It is a great way for people of all ages to participate and you could even wear patriotic costumes and gear.

You could also seek donations from entrants and spectators and turn the event into a fundraiser for a local charity.
Letters to the Military
There's no better time than the 4th of July to express to American military men and women just how much we appreciate their service. Your entire family can get involved with writing letters to them and thanking them for their efforts. Many organizations help to facilitate this task, including Operation Gratitude. Thanking military men and women for their service is a great family activity and puts the true meaning of the holiday in perspective.

However you choose to celebrate our nation's independence, remember that our country has a distinct and amazing history, and it certainly should be cherished and honored.