Fortunately for all of us, things are trending in a positive direction regarding COVID-19. Vaccinations are up, case rates are down, and if all continues to go well, we can begin to see some light at the end of the tunnel.
Still, most of us are likely to remain in quarantine for the upcoming Easter celebration (April 4, 2021), and so we thought we'd provide some suggestions on how you and your family can enjoy this cherished holiday at home.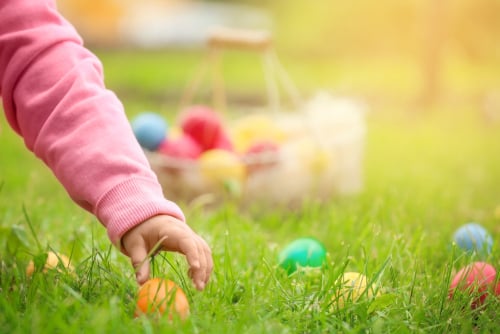 Keeping Grandparents Safe
By now, we all know the protocols for keeping family and friends safe. But, as usual, these health measures especially apply to grandparents and older family members.
One way to make them feel engaged and special is to drop off Easter baskets at their doorstep. You and your kids can be involved in the crafting, disinfecting, and delivering of homemade Easter baskets, while maintaining a safe social distance.
Dropping off thoughtful and creative baskets of goodies is a great way to express your care and concern for their safety.
Zoom to the Rescue
If you are unable to have family or friends over for a traditional Easter brunch, then you might consider using Zoom or FaceTime to connect with them throughout the day.
We're all cooking more at home these days, so why not share the occasion with family members? On Easter Sunday morning, connect through Zoom and cook your meal along with them. It's a very satisfying experience.
Also, when you're ready to sit down and enjoy your delicious Easter meal, invite family and friends to join you. Though it might seem a bit strange to dine through video chat, it's a great way to bring the people you love to your table.
Get Creative with the Easter Egg Hunt
Naturally, community Easter egg hunts are out this year. But that doesn't mean parents can't invent creative ways for their kids to enjoy this traditional Easter event, whether indoors or outside in the backyard.
First, make the coloring of the eggs a communal family event. Parents and kids creating original festive designs together. Also, consider allowing the kids to be responsible for decorating your house. Inspire them to be creative and let their little imaginations run wild. They will love it.
Next, think of ways to enhance the Easter Egg Hunt experience. For example, in addition to hiding candy and prizes with the eggs, you can also include a raffle ticket with each one. Then, after the Egg Hunt has concluded, you can hold a raffle for some fantastic Easter gifts. Or you might conduct an Easter Egg Relay Race. Organize the kids into teams and have a member from each team search for an egg. When an egg has been found, they tag their next teammate — just like a traditional relay race!
Don't Forget the Easter Bunny
Thanks to technology, the Easter Bunny can still make an appearance in your home to the delight of your small children. Some event services are offering personalized video messages from the Easter Bunny. Others are offering live streaming shows where the Easter Bunny will teach children the bunny hop, the bunny shuffle, bunny songs, and other Easter Bunny skills.
With any luck, this will be the last time we have to celebrate Easter in quarantine. But under the present circumstances, let's make the best of it and still be grateful for all of our many blessings.