As we look ahead to 2022, there's no better time to give your home a little refresh. While your budget may be recovering from holiday gifting, there are plenty of ways to spruce up your living space without breaking the bank. Not sure where to start? Let Carrington help you get started with these four DIY projects.
Update Your Front Door
Your front door is the first thing guests see when they come to visit your home. If you're feeling a little bored with how your home looks on the outside, but don't want to deal with the hassle and price of painting the exterior, painting your door is a great option.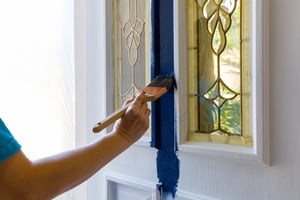 When choosing your paint, it's crucial to know the type of paint that is currently on your door. If your door is currently painted with an oil-based paint, painting over it with a latex-based paint will result in your paint flaking off. Since your door is facing outside, you'll also want to seal and weatherproof your new paint so it lasts and continues to look its best. Make sure to choose a paint color that not only showcases your family's personality, but also works well with the color of your trim, exterior, and windows. Additionally, for homeowners living in an area with an HOA, please read their rules and guidelines pertaining to exterior paint jobs—no one wants to have to reverse a project after it's complete!
Peel-and-Stick Wallpaper
Just like painting your front door, updating your interior walls is an easy way to make any living space feel fresh and new. Going through the process of picking out a new paint color and going through the steps and mess of painting an entire living space is exhausting, and can quickly deter you from completing what you've started. Luckily, peel-and-stick wallpaper is a fantastic option you can utilize.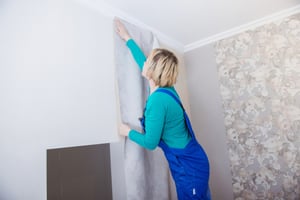 There are thousands of options for colors, patterns, and textures available online or at your local hardware store—the sky is the limit! As you prepare to add wallpaper to your chosen space, make sure you have something that can easily function as a smoothing tool so you can avoid bubbles, and use a pencil to gently mark the top and bottom of each piece and their order so your pattern is seamless.
Floating Shelves
Once the holidays are over and gifts have potentially overtaken your home, a great way to clean up your clutter is by adding floating shelves. You can use these shelves as an opportunity to showcase family photos, new plants, books, and other knickknacks that work within your space. Check out Pinterest or YouTube for style inspiration on paint colors, wood staining, shelf style, and more. For those feeling motivated, there are plenty of tutorials online for building your floating shelves from scratch, but make sure you have a designated workshop space to minimize clean up or children and pets getting in the way.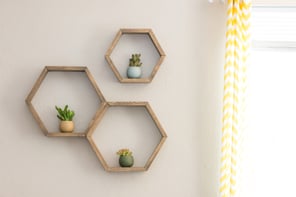 If you aren't feeling quite up to the challenging of pulling out the power tools, there are great, low-budget options on Amazon, Target, or your nearby hardware store.
DIY Large Scale Art
If you have a wall space that feels bare, and may be too much space to utilize for a gallery wall, try making some large scale art of your own to hang! All you need are a wall tapestry, wooden frame, staple gun, and a little imagination.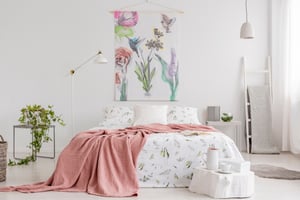 Find a wall tapestry you like online—big box stores always have plenty of options, but if you're looking for something a bit more unique, check out smaller businesses in your area or on Etsy. Once you've chosen your tapestry, check out tutorials online that work within your budget and skillset.
And just like that, you're on your way to a fresh, new home and starting the year off right!