As we enter the holiday season, many people may be having a little one visiting their house soon. Whether you recently became a parent or a new child has entered your family, here are a few child-proofing tips: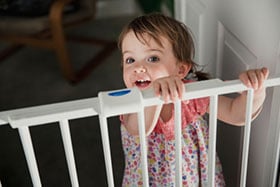 Door Knob Covers – Placing a cover on doorknobs make it hard for little hands to grip, turn, or open doors. The covers should be placed on any doors leading out of your house or any other rooms that are off-limits to children.
Corner Guards – Furniture can have sharp corners. Adding a corner guard to these hard corners will provide a soft cushion to your tables and desks.
Latches and Locks – These can be placed on both bathroom and kitchen cabinets along with drawers. Typically, they are made secure with either an interior latch or an external lock. Locking straps will prevent children from opening the doors of the major appliances or even the toilet lid.
Safety Gates - Securing the stairs in your home is an essential part of childproofing your home. Often placed at the top and bottom of staircases, a safety gate will provide a barrier to restrict access to unsuitable areas.
Unstable Furniture – Children naturally run, jump and climb when they are playing, but larger pieces of furniture such as bookshelves, entertainment centers, TVs, etc. can become hazardous if they aren't properly secured. Use brackets or anchors to affix them to a wall to prevent them from tipping over.
Fireplace Gate – As many homes have fireplaces, it is important to keep your children far away from the flames. A fireplace gate is an effective way to keep them at a safe and manageable distance.