Who doesn't enjoy a Mexican fiesta? The colorful costumes, the delicious food, the margaritas, and mariachis. One of the more popular Mexican celebrations – in Mexico and the U.S. – is Cinco de Mayo (May 5th), which commemorates Mexico's victory over France at the Battle of Puebla in 1862.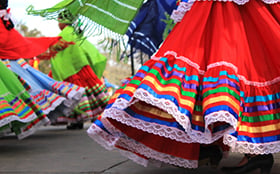 Because we are still in the midst of COVID restrictions and precautions, we thought we'd provide you with some ideas on how to celebrate this festive holiday at home this year, among family and friends.
First, let's clear up a common misconception. Many people believe that Cinco de Mayo is a celebration of Mexico's Independence Day. It's not. That's in September. Cinco de Mayo the Battle of Puebla on May 5, 1862, when the Mexican military defeated a French army at Puebla during the Franco-Mexican War. The French were traveling to reach Mexico City with plans to establish a satellite state and this battle marked a decisive victory for the Mexican military at the time.
Now, about the fiesta:
The Food: You could plan on serving tried-and-true tacos at your party, but we think you might want to be a little more adventurous than that. If you're going to prepare your own food at home, why not consider a few more traditional Mexican dishes like classic guacamole, Baja fish tacos, or, for the kids, delicious Mexican pizza. And if you're in the mood for something more exotic, why not consider dishes like Mole Poblano, a spicy and delicious traditional Mexican dish that originates from the city of Puebla, or Enchiladas Poblanas that are made with poblano chiles.
Also, as we know, many restaurants have suffered terribly during the COVID crisis, so you might consider ordering food from your local Mexican restaurant. You could get all the enchiladas, nachos, tamales, and taquitos you need, and you would also be providing some much-needed help to restaurants that could use the boost in revenue.
The Drinks: There are few drinks tastier and refreshing than a classic margarita but if you're feeling creative, there are other drink recipes you might consider. For example, you might try a tequila-based Paloma or a very popular and spicy Michelada. Some mixologists are inventing new twists on margaritas, like a refreshing tropical coconut margarita or a delicious avocado margarita. And, of course, Mexico is renowned for its many brands of Cerveza (beer) which will keep everyone dreaming of a warm tropical beach.
The Music: Under ideal circumstances, you would hire a delightful Mariachi band to serenade your guests at your Cinco de Mayo fiesta. But given COVID restrictions, that's unlikely to happen this year. However, with a little ingenuity, why not create your own Spotify playlist of traditional Mexican music, or you could just access this curated list by the One & Only Palmilla. Mariachi music is lively, happy, and exuberant, and it will surely lift the spirits of all who attend your fiesta.
The Decorations: This is a perfect activity for the kids in your house. Give them the assignment of creating Papel Picado, which translates as "perforated paper" or "torn paper". It is a decorative craft made by cutting elaborate designs into sheets of tissue paper. Papel Picado is considered a Mexican folk art and typical themes include birds, floral designs, and skeletons.
Cinco de Mayo is truly a fun and entertaining holiday to celebrate but of course, it's still necessary to follow all of your local COVID-19 guidelines and to practice social distancing, wherever possible.