CCF 10th Annual Golf Classic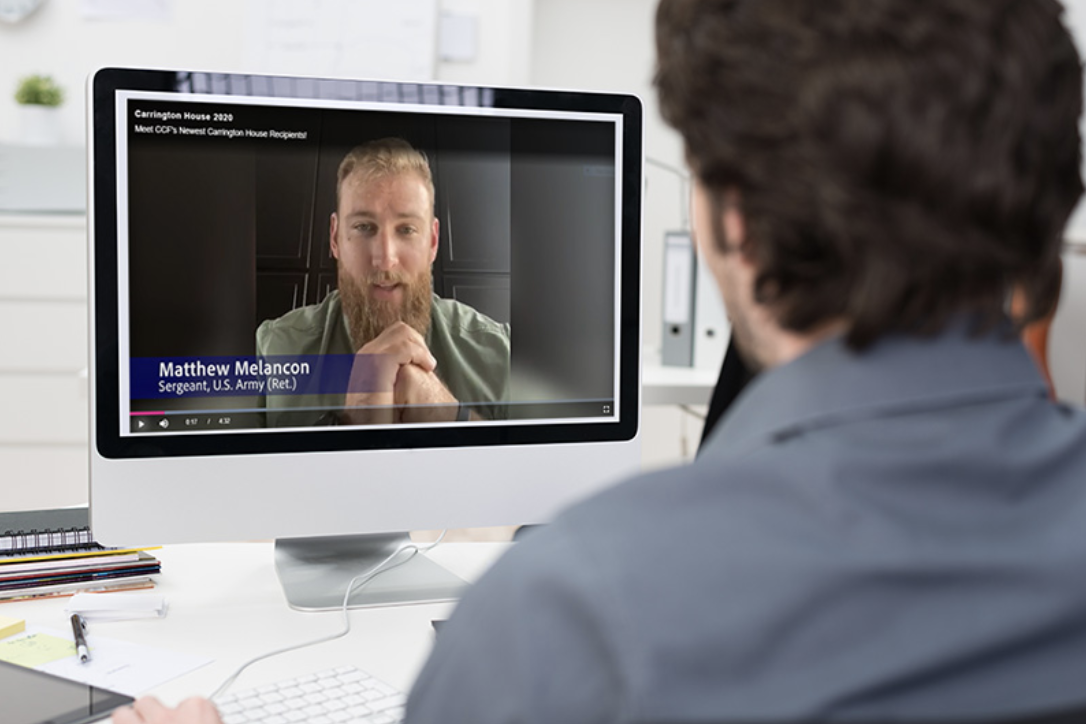 This year, even during this time of uncertainty, CCF is continuing to fulfill our commitments to the organizations and Veterans we support. We wanted to share updates on our upcoming REACT Virtual Event, the Round Up Program, and Veteran homes in progress.
REACT Virtual Event
In lieu of an in-person event for the 10th Annual Golf Classic, we've created opportunities for our supporters and donors to have a direct impact on the homes in progress for U.S. Marine Corporal Michael Jernigan and U.S. Army Sergeant Matthew Melancon provided by our Carrington House program. This year's event is being transformed into an hour-long virtual fundraiser featuring a silent auction, live auction, inspiring words from Veterans and others and performances. You won't want to miss REACT: A CCF Virtual Fundraiser. The fun will take place on Oct. 12, 2020.
Historically, the annual CCF Golf Classic event brings in the majority of our fundraising revenue for the year, providing critical support to CCF's Signature Programs. Even though the full event will not be presented as usual this year, we still have important commitments to honor with our Veteran Heroes and their families. Ongoing donations and support are critical to building our Veterans the homes they deserve.
Please watch our short video on Michael Jernigan and Matthew Melancon as they share their daily struggles in their current living situations, how their new home will impact their lives and what home means to them.
Round Up Program
Last September, CCF launched the Round Up Program, allowing borrowers to make either a one-time or recurring donation to CCF with their monthly mortgage payment, in any amount of their choosing. To date, over 25,000 borrowers have made donations totaling $115,000. These generous donations are contributing to the inspiring work that is the CCF mission. From supporting our Veterans, to assisting with disaster relief and feeding the hungry, to helping companion animals and much more, CCF and its Board of Directors, together with Carrington Associates, are committed to improving life in the communities where we work and live.
The Miles Project
The Miles project is moving along nicely. We are currently finishing up the interior mechanicals (plumbing, electric, HVAC, Etc.). Once mechanicals are complete, we will begin the exterior stucco and completion of the roof installation. After the exterior work is complete, we will begin the interior finish work, which will take us well into the end of the year. Projected completion is still expected for January 2021, barring any unforeseen delays due to weather.
The Melancon Project
We just closed escrow on a beautiful home for Matt in Heber City, UT, which is just outside of Park City. The house is a little over a year old, and is in beautiful condition. However, we do have some modifications to do inside in order to accommodate Matt's needs. We will be providing Matt with an accessible shower in the Master Bathroom, as well as reworking the front porch and rear deck to also be more accessible for Matt in the future. We hope to have Matt into his new home by Thanksgiving.
The Jernigan Project
We have located a beautiful new home development in Northern Virginia for Michael and KimberLee. Michael and KimberLee will be making their first visit to the site this month to make the final material selections; and construction is expected to begin toward the end of October. Projected completion is expected in May 2021.
Our work is never done. We are continuing to strive to make the lives of our Veterans just a little bit better; and we are always humbled by the support you provide that allows us to continue the programs that serve Veterans and other deserving nonprofit organizations. Thank you for joining us in the mission to aid our nation's Heroes. Your support makes all the difference!